Fried Chicken Sandwiches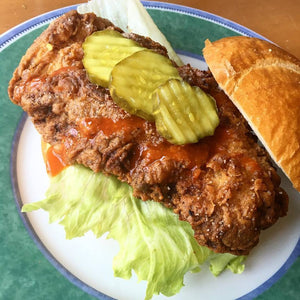 Ingredients:
4 chicken cutlets
1 ½ cups buttermilk or sour milk (add 1 tablespoon vinegar to milk)
4 tablespoons sriracha hot sauce
1 ½ cups all purpose flour
1 tablespoon SplenDishes House Blend (salt, garlic, pepper, chili flake)
1 tsp cayenne pepper
¼ cup mayonnaise
Splash lemon juice
SplenDishes Bourbon Bacon Salt
12 ounces canola oil
4 kaiser rolls
Pickles, sliced
Lettuce
Hot sauce
Directions:
To Marinate Chicken: Combine buttermilk, sriracha and chicken in ziplock bag and marinate overnight (or at least 4 hours). Be sure to take out of refrigerator 30 minutes before ready to fry.
Prep Flour Mixture: In a shallow bowl, combine flour, House Blend and cayenne pepper. Taste and add additional seasoning, if needed. Cover and set aside until ready.
Spicy Mayo: Combine mayo, sriracha and lemon juice. Keep refrigerated until ready to use.
Heat canola oil in deep fry pan on high heat until it reaches 350 degrees.
Dredge chicken in flour mixture, shaking off excess flour and gently place into oil. Fry until golden brown, about 8 minutes on each side.
Remove from oil and place on paper towels and season immediately with Bourbon Bacon Salt.
To Assemble Sandwiches: Slice Kaiser rolls in half and spread with spicy mayo. Place crispy lettuce on bottom bun, then top with chicken. Drizzle hot sauce over chicken and add pickles before topping with bun.
Leave a comment
Comments will be approved before showing up.