French Toast with Praline Pecan Syrup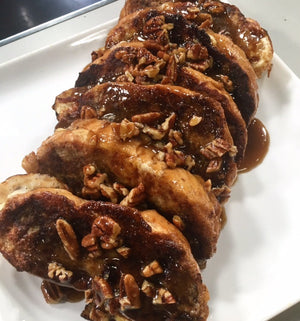 Ingredients:
1 French bread loaf, sliced into 1" pieces
1 cup firmly packed light brown sugar
1/2 cup butter, plus extra for browning French toast
2 tablespoons maple syrup
3/4 cup pecans, chopped
6 eggs, beaten
1 1/2 cups milk
2 tablespoons sugar
1 teaspoon SplenDishes Pumpkin Pie Blend
1 teaspoon vanilla extract
Directions:
Slice French bread into 1" slices.
Whisk together eggs, milk, sugar, SplenDishes Pumpkin Pie Blend and vanilla. Soak bread slices in mixture for 30-60 minutes.
In a small sauce pan, melt butter and brown sugar. Add maple syrup and pecans. Bring to a boil, then lower heat and simmer for about 5-8 minutes. Set aside until ready to use. Excess can be stored in sealed container in refrigerator for up to 10 days.
Heat a fry or sauté pan on medium high heat, add butter until melted.
Carefully remove soaked bread, draining excess egg mixture off, and place into pan. Brown on both sides, until golden brown, about 3-4 minutes on each side.
Serve immediately with warmed syrup.
Serves 4. 
Leave a comment
Comments will be approved before showing up.