Tomato Bacon Pie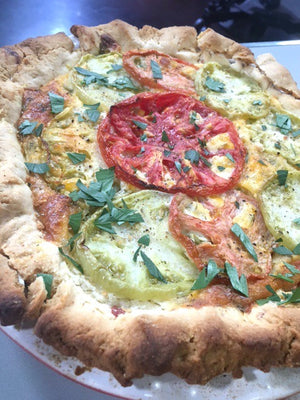 Ingredients:
Crust:
2 ¼ cups self-rising flour
1 cup cold butter, cut up
6-8 bacon slices, cooked
2/3 cup sour cream
Filling:
2 pounds large tomatoes (assorted colors and sizes)
1 teaspoon kosher salt
1 cup cheddar cheese, shredded
½ cup Parmigiano cheese, shredded
½ cup mayonnaise
1 egg, beaten
2 tablespoons fresh dill, chopped
1 tablespoon chives, chopped
1 tablespoon flat-leaf parsley, chopped
1 tablespoon apple cider vinegar
1 green onion, thinly sliced
2 teaspoons sugar
SplenDishes Bourbon Bacon Salt
1 tablespoon yellow cornmeal
Directions:
To Make Crust:
Using a Cuisinart mixer, pulse flour and cold butter until mixture resembles small peas.
Add bacon to flour/butter mixture; pulse just until combined. Add sour cream, and pulse until dough forms.
Spoon mixture onto a floured surface; sprinkle lightly with flour, and knead 3 or 4 times, adding more flour as needed. Roll to a 13-inch round. Place dough in a 9-inch pie pan. Press dough into pan; trim off excess dough along edges. Chill 30 minutes.
To Make Filling:
Slice tomatoes into ¼ inch thick slices, and remove seeds. Place tomatoes in a single layer on paper towels and sprinkle with 1 tsp. salt. Let stand about 10 minutes.
Preheat oven to 425 degrees.
In a large bowl, combine cheeses, mayonnaise, egg, herbs, apple cider vinegar and sugar, until well combined.
Pat tomato slices dry with a paper towel. Sprinkle cornmeal over bottom of crust. Spread a thin layer of cheese mixture onto crust; layer with half of tomato slices in slightly overlapping rows. Top with ½ cup cheese mixture. Repeat layers, using remaining tomato slices and cheese mixture (save 1 layer of tomatoes for top). Arrange remaining tomatoes on top of pie.
Bake at 425 degrees for 40 to 45 minutes, protecting edges with foil during last 20 minutes to prevent excessive browning. Let stand 1 to 2 hours before serving.
Serves 6-8.
Leave a comment
Comments will be approved before showing up.