Chicken and Dumplings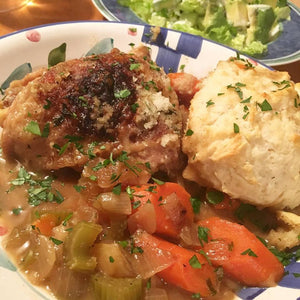 Ingredients:
1 whole chicken (cut up)
2 tablespoons SplenDishes Bourbon Bacon Salt
4 tablespoons flour
¼ vegetable oil
4 carrots, roughly chopped
3 celery stalks, chopped
1 onion, chopped
3 potatoes, cubed
2 cups dry white wine
Fresh parsley for garnish
Dumplings:
2 cups Bisquick mix
2/3 cup milk
2 tablespoons butter, melted
Combine ingredients in a bowl right before spooning over chicken.
Directions:
Season chicken with SplenDishes Bourbon Bacon Salt and flour. Brown on both sides, in an oven proof pan with vegetable oil, then remove from pan.
Add more oil, chopped carrots, onion, celery and potatoes. Sauté for about 4-6 minutes, then deglaze pan with about 2 cups dry white wine.
Add chicken back in (this is where you can transfer to slow cooker) and braise in 350 degree oven for about 1 hour.
Drop spoon sized dumplings on top of chicken and cook covered for 10 minutes, then remove lid and bake additional 10 minutes.
Garnish with chopped parsley. If you used the slow cooker, cook on low for about 6-8 hours.
Leave a comment
Comments will be approved before showing up.