Campfire Chicken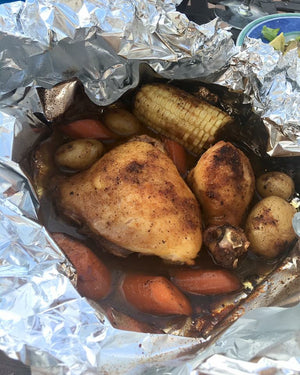 Ingredients:
6 pieces chicken (any type you like, breasts, thighs, legs etc)
3 corn cobs, cut in half
1 pound baby red potatoes
1 red onion, roughly chopped
6 large carrots, cut into 3rds
SplenDishes BBQ Rub
Kosher salt
2-3 dark beers
Directions:
Using about 12" square of heavy duty aluminum foil, place 1 piece of chicken, ½ corn cob, a few baby red potatoes, some onion and carrots into center of foil. Season generously, with about ½ tablespoon of SplenDishes BBQ Rub and a pinch of salt.
Bring edges up leaving center open, making an open like pouch. Place on baking sheet and continue with remaining 5 pouches.
Heat BBQ on medium high heat and place pouches on grill. Pour about ½ beer (or so) into each pouch, so liquid is about ½ way covering chicken and veggies.
Close grill and cook for about 25 minutes or until chicken is cooked through (this depends on what type of chicken you used (bone-in will take longer). Be sure to check after about 15 minutes for level of liquid and add more if needed.
Remove from grill, place each pouch on serving plates and serve as is.
Makes for a great presentation!
*This dish can also be done in the oven! Place in 400 degree oven for about 30 minutes or until chicken is cooked through.
Serves 6.
Recipe courtesy Shonali Thomas, SplenDishes Gourmet Foods, LLC
Leave a comment
Comments will be approved before showing up.