Grilled Peaches with Prosciutto & Balsamic Drizzle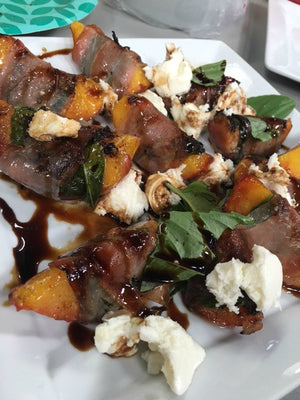 Ingredients:
4 peaches
8 slices prosciutto, sliced in half, longwise
16 large basil leaves
Extra virgin olive oil
Balsamic syrup to drizzle
Fresh Mozzarella
Directions:
Cut each peach into quarters. Place 1 basil leaf over top of peach, then wrap securely with a slice of prosciutto and secure with toothpick.
Heat grill or grill pan to medium heat.
Brush peaches generously with olive oil to prevent the prosciutto from sticking to the grill.
Grill peaches until char marks appear, turning peaches until sides are evenly cooked, about 3-4 minutes each side.
Transfer peaches to a platter and remove toothpicks. Add pulled chunks of mozzarella around peaches. Drizzle with balsamic syrup and garnish with fresh torn basil.
Recipe courtesy Shonali Thomas, SplenDishes Gourmet Foods, LLC
Leave a comment
Comments will be approved before showing up.