Seared Tuna Tacos with Spicy Cilantro Cream Sauce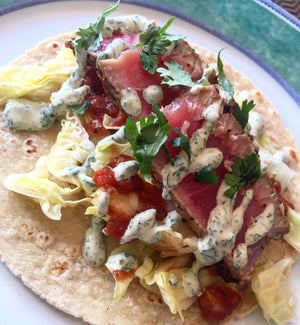 Ingredients:
½ pound fresh tuna (sashimi grade)
SplenDishes House Blend
Olive oil
2 cups iceberg lettuce, thinly sliced
2 tablespoons cider vinegar
Sriracha hot sauce
½ cup sour cream
¾ cup fresh cilantro
SplenDishes Fire Roasted Salsa
Tortillas
Directions:
In a small blender, combine cilantro, sour cream and sriracha with a pinch of SplenDishes House Blend, until well blended. Store covered in refrigerator until ready to use.
Toss lettuce with cider vinegar and set aside.
Coat tuna generously with SplenDishes House Blend.
Heat sauté pan on high heat. Drizzle with olive oil and sear tuna for 1-2 minutes, depending on thickness, on both sides.
Remove from pan and slice.
To assemble tacos, place slaw on tortilla, spoon Fire Roasted Salsa over slaw. Lay sliced tuna on top of salsa and spoon cilantro sauce over tuna. Garnish with fresh cilantro leaves and hot sauce.
Makes approximately 4-6 tacos.
Leave a comment
Comments will be approved before showing up.